FAQs
Quickly find answers to our most frequently asked questions
What areas do we service?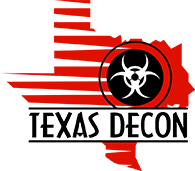 Texas Medical Waste proudly serves the top metropolitan cities in Texas and the surrounding areas
Austin Metro Area – 512-445-0555
San Antonio Metro Area – 830-660-3149
Houston Metro Area – 1-800-978-8192
Dallas/Ft. Worth Metro Areas – 1-800-978-8192
Rio Grande Valley Area – 1-800-978-8192
Call Toll-Free for Medical Waste Disposal & Removal – 1-800-978-8192 or Request a Pick-up
What is medical waste?
Regulated medical waste is defined as any solid waste, generated in the diagnosis, treatment (e.g., provision of medical services), or immunization of human beings or animals, in research pertaining thereto or in the production or testing of biologicals, but does not include any hazardous or radioactive waste. Learn more about Medical Waste Pick-up Service.
What is trace chemotherapeutic waste?
Waste that is contaminated through contact with or has previously contained chemotherapeutic agents, including but not limited to: gloves, gowns, towels, syringes, intravenous solution bags, and attached tubing, etc. In order to be considered "Trace" chemotherapeutic waste, the item must be "RCRA empty", containing less than 3% by weight of the original quantity of hazardous drugs. Texas Medical Waste does not handle "Bulk" chemotherapeutic waste. Request a pick up today.
What is pathological waste?
Human pathological wastes, including tissues, organs, body parts and body fluids that are removed during surgery or autopsy, or other medical procedures, and specimens of body fluids and their containers. Learn more about Medical Waste Pick-up Service.
Do the different types of waste have to be separated?
Yes, different types of waste (i.e. regulated medical waste, chemotherapeutic, and pathological) must each be placed in separate containers in order to accurately and properly manage and dispose of each type of waste correctly. Request a pick up today!
What can be placed in the medical waste box?
Closed and tied red bag waste
Closed and locked shut disposable sharps containers
Leak-proof containers of liquid
Soft red bag waste, including but not limited to: gauze, table paper, blood-soaked items, intravenous bags, soft plastic items, gloves, gowns, bandages, etc.
Chemotherapeutic and Pathological waste may be placed in separate cardboard medical waste boxes and must adhere to the above guidelines.
What CAN'T be placed into the medical waste box?
No hazardous or radioactive waste
No loose liquid in excess of 20cc
No loose syringes or needles
No loose hard plastic items, such as pipettes or culture dishes
No glass items.
Rule of thumb: If it can puncture the red bag, it needs to be placed in a sharps container. Learn more about Medical Waste Pick-up Service.
What goes into the sharps containers?
All needles and syringes
Hard plastic pipettes and tips
Glassware items including but not limited to test tubes, vials, bottles, slides, vacutainers, etc.
Items made of metal, razor blades, scalpels, knives, tweezers, scissors, etc.
Does Texas Medical Waste pick up hazardous waste?
No, Texas Medical Waste does not handle or pick up any hazardous or radioactive waste.
Are You OSHA Compliant?
Yes, Texas Medical Waste is OSHA Compliant with an easy, secure Compliance Portal Log-In. OSHA Compliance In 1970, the Occupational Safety and Health Administration (OSHA) was created. The goal was to help create a safer work environment by working with businesses to establish standards that were workplace-specific. The Health Care industry needs to follow steps to identify some of the major OSHA requirements and guidance materials that may apply to your health care facility. These steps will lead you to resources on OSHA's website that will help you comply with OSHA requirements and prevent workplace injuries and illnesses.
Our OSHA Online Compliance Suite:
Electronic Manifest Tracking and Reporting
OSHA Audits – Know if Your Facility is 100% Compliant
Safety Plans – Build Your Own or Use and Edit Existing Plans
MSDS/SDS – Print, Store, Search and Add Product Safety Sheets
ICD-9 & ICD-10 – Simplify the Conversion
OSHA Training – All Required Courses Available (10 credits free at initial set-up)
OSHA 300 – Tracking and Reporting
Infectious Disease – All You Need to know – Always Current
Documents/Forms – W-9, Company Forms (Yours & Ours)
Current Federal and State Regulations – Easy to Read and Current
Group and Individual Training – Controlled by Your Facility Administrator
Additional OSHA Training Credits – at a low cost per credit or bulk pricing.
Training Credit Bulk Rate pricing and/or Multiple Location Discount Available
24/7 Online Access and Support – Provided at an Industry Low Annual Fee
Have a question we haven't answered here? No problem!

Contact us

and let us know how we can help.
Get the Help Your Medical Facility Needs
Our Customers Love Us. Request a Free Quote or Call 1-800-978-8192
Texas Medical Waste
Texas Medical Waste is a full service medical waste disposal company setting the standard in the industry for quality, reliability and exceptional customer service.
122 Dennis Drive Seguin, TX 78155
info@texasmedicalwaste.com